looking for Earwigs with Murphy for his "watch-a-bug"
Inspired by :
from the Sartorialist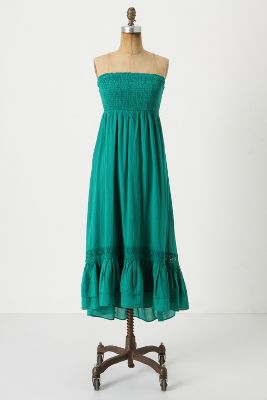 from Anthropologie
Ahhhh, the smocked sundress. A girly staple from age 0-forever. I wanted one, have made other versions before, but when I got all the double gauze with snails on it in two different colors, I knew one was going to get smocked! I used my trusty elastic thread and started smocking. Then I found that picture from the Sartorialist, and liked the shorter bubble style. So I mashed the two together!
starting with the shirring, I made the dress shorter, added two pockets and a ruffle keeping it at about knee length…( I have never been clear on whether it is called smocking or shirring or either or when it comes to this te3chnique with the elastic thread on the bobbin. Maybe one of you could tell me? I suppose I could look it up and that would take less time than typing this but it is just another version of my lazy side…)