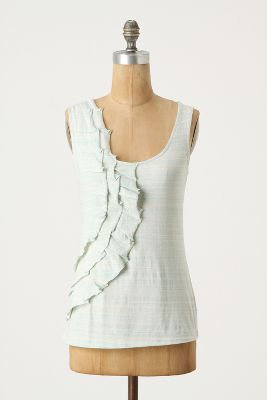 from Anthropologie
I really liked this easy upgrade. Its the Wandering Wake tank from Anthropologie. So I thought I would try my hand at another how to.
my version
i wanted to give more life to some of my old stained tee shirts, and so I went looking for inspiration at my favorite place: Anthropologie. I took two similar colored tee shirts, one small and fitted, the other very oversize and thrifted. I cut the sleeves off of the fitted one, and hemmed the arm holes, so that it was sleeveless.
Mine is crew neck over scoop neck, but I may try this again in a lighter color. Army brown was all I had in bulk.
Then, from the oversize shirt, I laid it flat. Then I folded it from one bottom corner to make a 4 layer triangle. From that I traced out a "wavey" shape, cut it out. Those two large peanut shapes I cut in half lengthwise and made four strips.
From there, I ironed folded pleats at somewhat even intervals on each of three out of the four pieces. I stitched these pleats down.
I started layering them onto my fitted tee. My tee had an Old Navy deer embroidery on one side, so I placed my "waves" to cover that up. I stitched each layer down. The last layer, I rolled the edge over the arm hole hem and rolled the hem at the seam on the shirt.
I tacked down the layers in some of the more floppy spots. I tried to not show my stitch or thread on the outermost layer by only catching a few of the knit threads to hold the waves in place.
Voila
Let me know if you have any questions. I want this to make sense. But, sometimes I think I only make sense to myself…
So in blogland this morning (july 10, 2011) I came across another tutorial for this shirt also!! Good Luck, happy crafting!
I came across another! This one refashions a turtleneck! Check it out.