I am hopping across blogs this morning when I stopped at Noodlehead. She just finished yet another great project and directed reders to her source for Japanese sewing books. The Workroom.
I wish I could visit. TODAY. Alas, it is in Toronto. This is a glimpse of how I want Casa Crafty to go when we have something Brick and Mortar set up.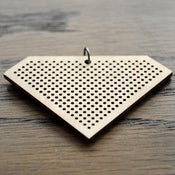 So then I jumped to her online shop. Cool scissors, books, and wooden cross stitch pendants??!! Sweet. I may be buying bought a few of those pendants.
Here are some pics from their Flickr gallery:
by the needle book
by Shanghai Cowgirl
Maybe it's just this week. Maybe I wish I had an unlimited supply of backer money to get me started. Maybe I am longing to be in a bigger city again?


If I could meld this studio and the Workroom, we are getting even CLOSER to the model for Casa Crafty. Just need a potters wheel and kiln…