Remember this post? from way back before I got distracted by something or other? Well, Ahoy matey, that's one down!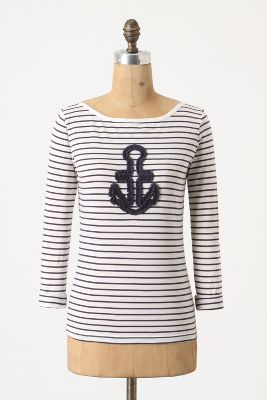 Original from
Anthropologie
. It is no longer available, sold out fast.
My Copy:
I started with this boatneck blue stripe shirt from the Old Navy clearance rack.
I found an anchor that worked from Clipart. Enlarged it and made a stencil. Then, using a disappearing ink pen I marked out the placement of my anchor.

I used two strips about 1″ wide and 36″ long of a navy blue jersey I had in my scrap bins (yes that's plural. I was watching Hoarders and I think I need to do a purge yard sale. fill a bag of scraps for $1…).
Using the longest stitch I have, I basted down the center of each strip. I pulled the bobbin thread to gather the strip into a ruffle. Then I pinned the bejezzuz outta it!
I hand stitched the anchor ruffles to the shirt while watching yet another disappointing Nicholas Cage movie on Netflix…
Now I have this shirt:


My mom and I were on the phone during my photo op. window. So you get some "action" shots! Yes, I love my teal denim from Gap. I have some more coupons saved and love the whole colored pant thing for the last year or so, may have to get another pair of these, if only they weren't sold out online and my local store (in my size).
Happy Stitching!