I was wasting time researching crochet patterns on pinterest when I came across this reasonable cloche.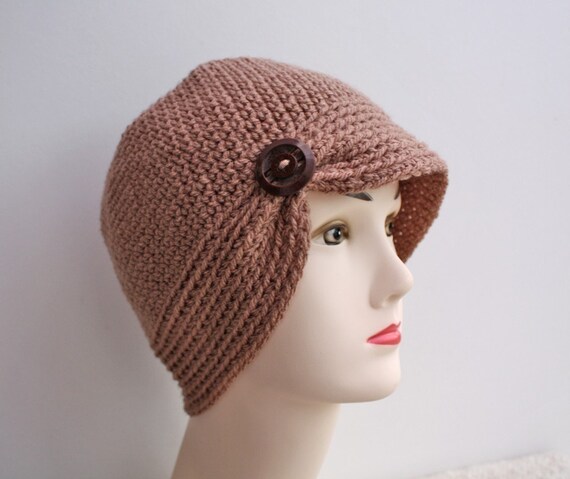 I had a button sewn on, but didn't like it, so I just wraped it up for the gather/fold in the "brim".
This pattern is great. Its simple, doesn't take long to put together. I actually ran out of the brown and decided this blush color would look nice as the "brim". In all I think I was at it 4 hours. Which, is pretty good considering I don't really know what I am doing.
I need to make some fingerless mitts to match.
But, this month isn't just about the projects. Its about all the research I do to figure out these crafts. I don't know if I made this clear, but I am learning a lot of new things every time I plan 30 days out. It requires time and effort to teach oneself a new skill…
Here's the thing about crochet. There is some amazing art out there.
Incredible soft sculpture, amazing yarn bombing, and some intense portrait work.
But, garments resemble table cloths.
not in a good way, unless you are a beach waif.
which I am not.
The other thing I found was the shortage of aesthetically pleasing crochet blogs. There are lots of knitters blogs. Most with pretty sweaters in good lighting and artsy filters. But the crochet blogs are lacking. I did find a few though, and I am still looking.
don't get me wrong, I know lots of crafty people that crochet lovely things. But their blogs are not devoted to crochet. Neither are these 3, but they offer more than I found in the knitting community. Next week,
Jill
is going to help us locate more awesome resources, and there may be a surprise too!!! If you know of a great crochet blog, please let me know in the comments!
photo credit: to my 8 year old son, in near dark, he helped me take these photos after dinner. thanks for helping kiddo! and for not wiggling to much!